Barberville, FL – Feb. 8, 2022 – There are a lot of details that must come together for a project like Logan's 2022 Shark Racing scheme and just importantly a lot of people that help make it happen. When the Shark Racing 1s rolled out of the trailer at Volusia Speedway Park for the 51st annual DIRTcar Nationals yesterday, it marked the completion of the 2022 1s brand build for the World of Outlaws season.

HOW WE GOT HERE
When checkered flag fell in Charlotte on the 2021 season and the work to build the 2022 program was in full speed. Shark Racing worked with all of their partners from 2021 to continue their partnerships for the 2022 season. We are pleased to have all of them back involved with Logan's team and we worked hard to provide them great spaces on the racecar, drivers suit/crew uniforms and transporter.
With Drydene's new ownership, RelaDyne, also promoting the DuraMAX brand, the Lakeside Apparel & Graphics design team of Zack Barber and Aaron Ott where able to add some blue into the already red, white and black color pallet. We asked for five different schemes and they provided us some great options, but one design jumped out at us. It was ultimately tweaked slightly and became what you will see hit the track this week for the first time.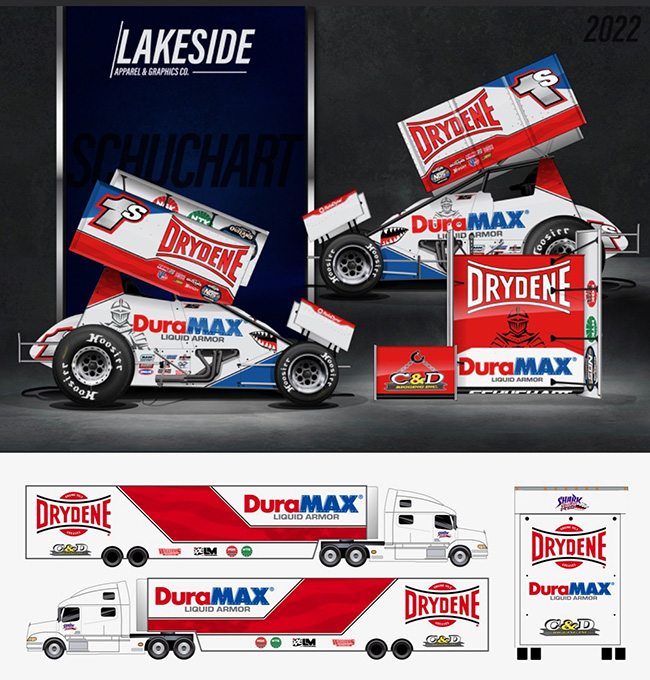 It was a very involved process and the Lakeside team delivered in a very tight time frame. They were able to get us a completely wrapped car ready in less than a day so that Logan's car could be displayed in Bridgeport's Speedway booth at the Motorsports Show near Philly.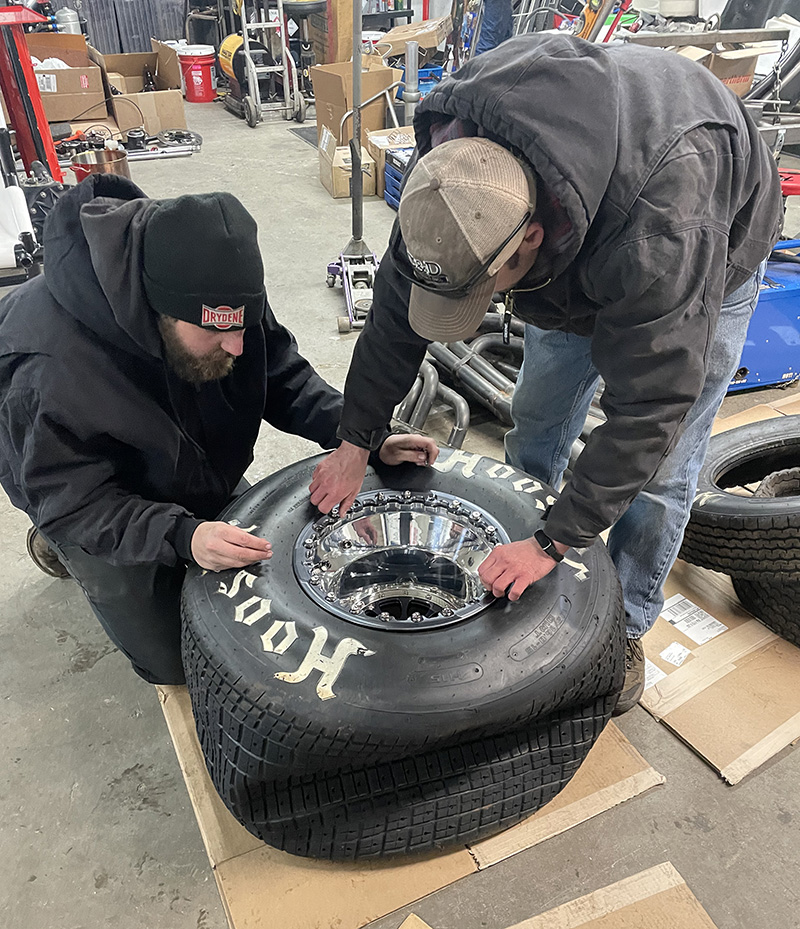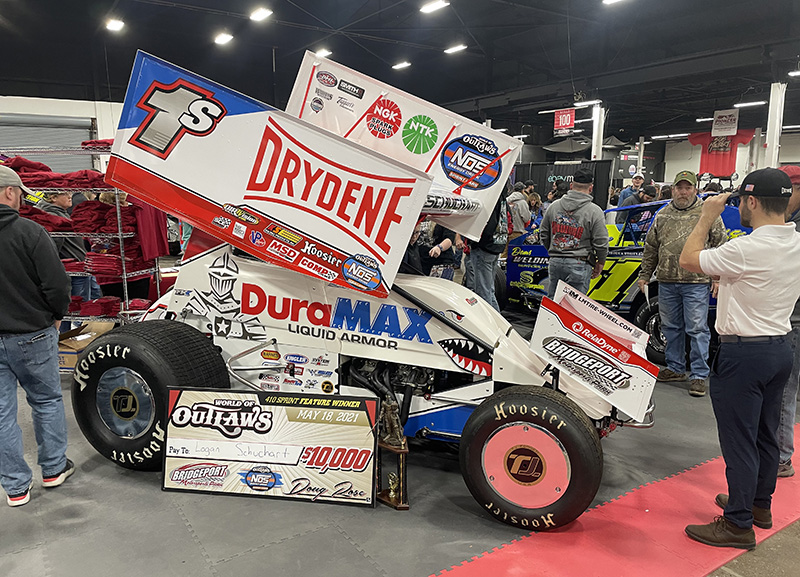 Once all the decal's were applied it was time for Nate Berwager and his group at RA Smith and Sons to put the final touches on it. A clear coating of all the body panels gives it an incredible shine and provides an added layer of protection.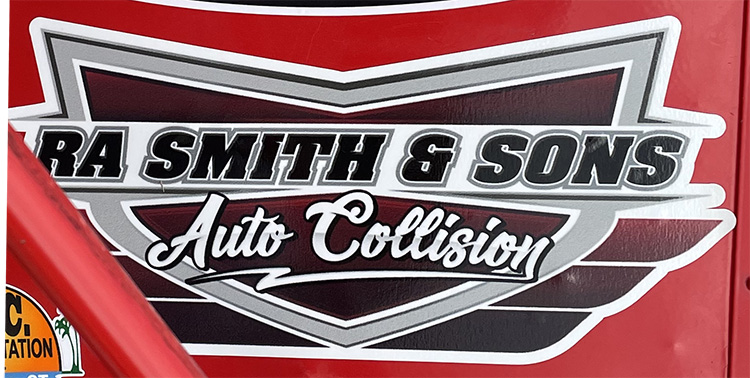 One the biggest branding tools a World of Outlaws team has is its 53' foot traveling billboard. RelaDyne's Dan Oehler and Al Johnson really liked the idea of utilizing a fresh wrap on Logan's hauler. Lakeside designed a scheme that gives both Drydene and DuraMAX great exposure, but also includes the stars and stripes that are also part of Logan's car design.
Before the trailer could go to Brandon Rahmer of Chop Designs for the install, four layers of old vinyl had to be stripped off. Shane Eisenhart of Iron Stag Crane Services opened his shop up on a weekend and a great group of guys spent the day getting the trailer back to it's original skin. You could even see the Mopar imprints from it's first few seasons on the road with Mark Kinser. Eddie Foit also help with the final details on the following Sunday.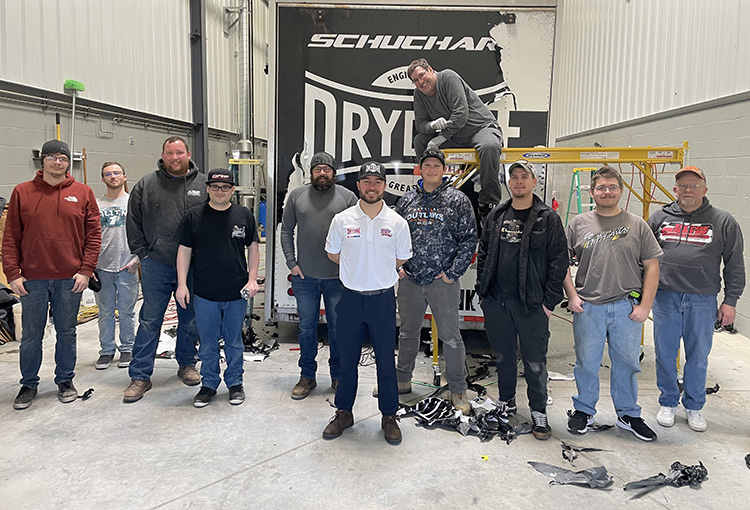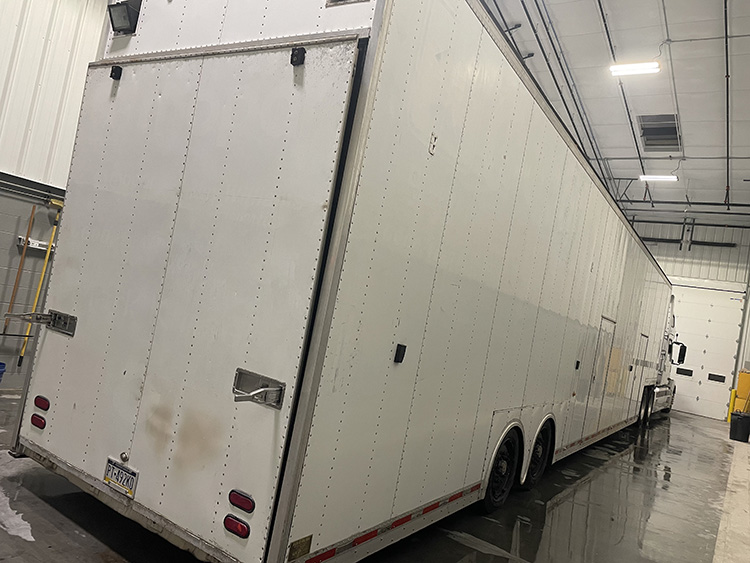 Our crewman Ben Witman delivered the trailer to Reading on a Thursday night and Rahmer worked for three days and did an outstanding job. We are extremely excited to see the rig travel the country providing Drydene, DuraMAX and C&D Rigging great exposure pulling into dirt tracks from coast to coast.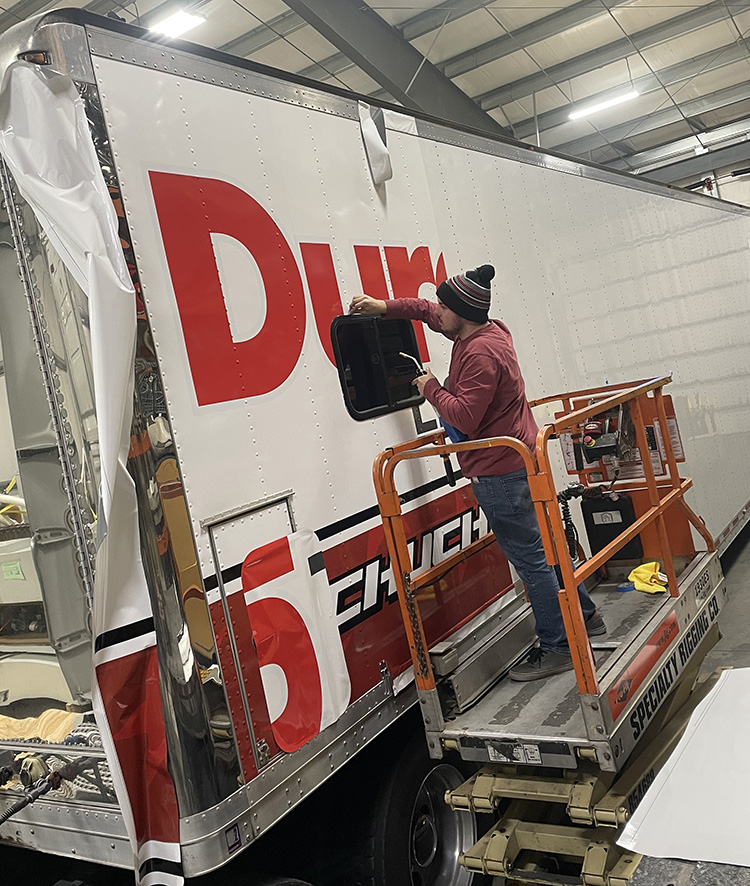 In their 2022 concept package, Lakeside provided some sample uniforms that were passed along to Jacob Brown and the team members at K1 RaceGear. K1 also took advantage of the added colors from the DuraMAX brand and built Logan four awesome suits and the crew new jerseys to wear too.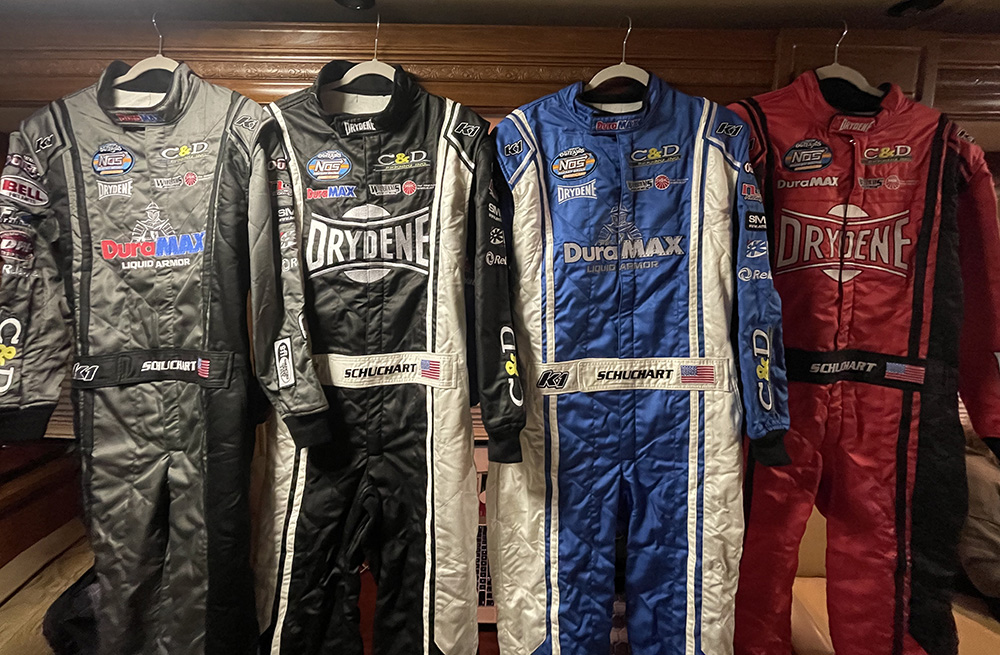 Mark Clemmons, of Clems Designs, has been painting Logan's helmets the past two years and designed a helmet that of course includes the shark teeth painted by Logan's grandfather Gene Schuchart and follows the WW2 fighter pilot theme. A bomber girl is also part of the design. Clem does terrific work and we're excited to see his next creation for Logan.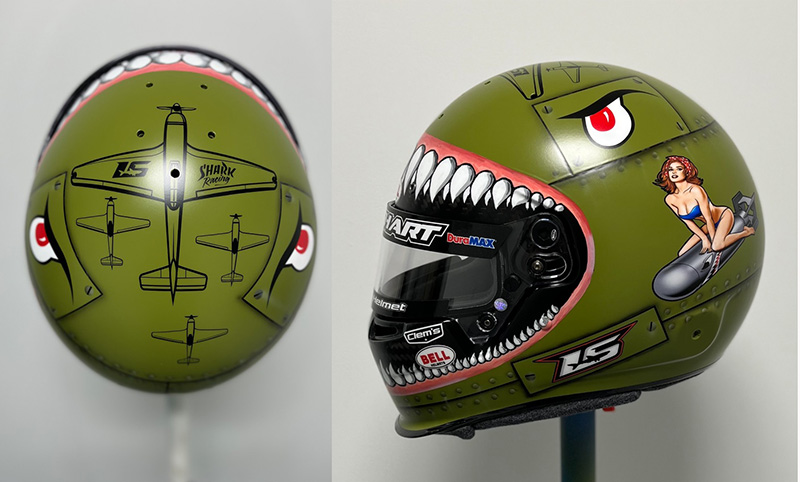 A big thank you to all of our crew members – Ron Helmick, Ben Witman, Jack Eckard and Tyler Garber for working hard to get everything built and to Florida safely.

It's been an incredible experience working with all of these great people. It takes being surrounded by great people to pull off something special. Everyone at Shark Racing is excited about the 2022 season we're excited that we can bring Lakeside, K1, Chop Designs, Clem Designs and RA Smith & Sons along for the ride with us.
https://loganschuchart.com/wp-content/uploads/2022/02/CarShot2022.jpg
582
1000
logan
https://loganschuchart.com/wp-content/uploads/2017/11/logo.png
logan
2022-02-08 16:57:36
2022-02-09 00:43:22
From Design to Rollout: Building Logan's 2022 Brand