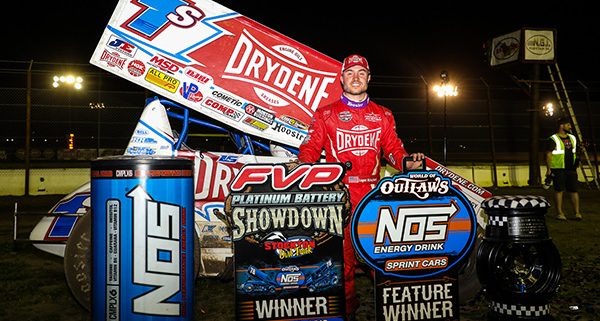 Schuchart Muscles His Way to Stockton Triumph
March 16, 2019 – Stockton, CA – Logan Schuchart set some high goals for 2019 and winning races was the priority. For most of Saturday night, his Shark Racing Drydene Performance Products/NGK Spark Plugs/ Michael Palumbo backed XXX No. 1s was in total control of the World of Outlaws NOS Energy Drink Sprint Car Series FVP Platinum Battery Showdown, but his first victory of the season wasn't easy to grab.
Schuchart qualified second in the field of 35 cars, dominated heat race two and the DIRTVision Fast Pass Dash to earn his first pole of the 2019 season. The Hanover, PA native shared the front row with his Shark Racing teammate Jacob Allen and the two raced side by side into turns one and two on the opening lap before Schuchart took control. Several cautions early kept Schuchart from getting a good rhythm around the demanding 3/8-mile dirt oval that was extremely rough.
He led the first 11 laps before bouncing violently through turns three and four which allowed Shane Stewart to take command. Schuchart gathered up his machine and got back to work and tracked Stewart for the ensuring dozen laps when a caution provided Schuchart another shot at Stewart. He took advantage of the restart and regained the lead coming out of turn four and pulled away. He would withstand another late restart and drove off for his first WoO A-Main triumph of 2019 and ninth of his career.
"I'm just happy for this whole team," said Schuchart, who ranks fourth in the 2019 WoO championship standings. "It's very rewarding for all of their hard work to be able to get a win this early in the season. It also feels good to get this win for everyone that helps us. Drydene Performance Products is a huge part of this by sponsoring both me and Jacob and then we have great partners in NGK Spark Plugs and people like Mike Palumbo that helps us out. It's a total team effort."
His team put in a lot of work to position Schuchart for Saturday victory. First-year crewman Ron Helmick and AJ Haynes along with assistance from Tyler Garber have started gelling with 10 nights of racing under their belts. After a hard-charging run of 19th to eighth in Volusia and a podium finish in Las Vegas, the team was looking to find consistency during the Outlaws' annual spring California swing.
Friday night in the Mini Gold Cup Race of Champions at Silver Dollar Speedway in Chico, they recovered from a mechanical problem which kept them out of qualifying as Schuchart charged from 10th to third in his heat and 11th to sixth in the A-main. The momentum continued Saturday where Schuchart was looking to improve on his career-best sixth at Stockton. He paced the field in hot laps and backed it up by turning the second fastest-lap in qualifying. He knew he had a fast car and starting from the pole there would be only one finish that satisfied them.
Despite losing the lead, Schuchart relied on the mantra of his hall of fame grandfather and mentor Bobby Allen of "Never Giving Up" to keep himself in the right frame of mind during the second half of the race.
"I was running pretty hard when I was out by myself," Schuchart said. "That's what kind of got me in trouble. I almost flipped the thing, bouncing around, jumping up and down."I knew (Shane) was going to have the same issues, he's going to want to get out front and stand on it. You can count on probably some more yellows, because we were having one right after the other."
The win gives Schuchart a second Outlaws triumph in California and the former Pennsylvania Posse racer was happy to give the packed house a show they won't soon forget.
"The fans are awesome (in California)," continued Schuchart, who is now tied with Sprint car greats Keith Kauffman, Brent Kaeding and Kenny Jacobs on the all-time the Outlaws win list with nine. "They're very passionate. It's awesome to win in front of this great crowd."
Schuchart will look to keep the momentum going in California next weekend with a pair of races Friday (Ocean Speedway, Watsonville, CA) and Saturday (Placerville Speedway).
https://loganschuchart.com/wp-content/uploads/2019/03/LS_Stockton_Win2019.jpg
400
600
logan
https://loganschuchart.com/wp-content/uploads/2017/11/logo.png
logan
2019-03-17 14:04:30
2019-03-20 12:44:32
ROUGH RIDING TO VICTORY