April 7, 2018 – With the calendar turning to April, the first quarter of the 2018 World of Outlaws Craftsman Sprint Car Series is the books and the results weren't what Shark Racing's Logan Schuchart was aiming for. The good news is that the second quarter starts tonight and the six-time Outlaw winner is ready to push ahead in his fifth campaign with the top national Sprint car racing circuit.
The 25-year-old driver of the Shark Racing No. 1s Priority Aviation/Ausherman Properties XXX machine took a few minutes to talk about his first eight weeks of racing on U.S. soil.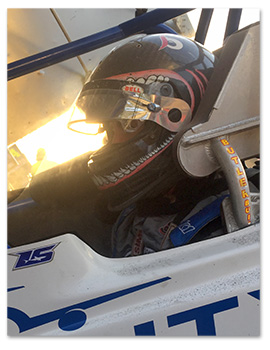 LS.com: You started your fifth season with the World of Outlaws by setting fast-time at Volusia in the season opener. Unfortunately, your speed early in the night didn't result in finishes near the the front. How tough is it to get your car not only fast early in the night, which you have to with the Outlaws format, but also fast at the end of the night when the race is on the line?
Logan: "That's the key racing with the Outlaws. Being able to be good all night. The biggest thing we have to address about our early season is being strong all night. You can't be falling out of races or having mechanical troubles. It felt great to start the year with the first fast time, but that feeling didn't last long. A few times we started the night out good and had something slow us down in the feature. We had some bleeder issues in Volusia and that gave us trouble in the first two feature races. And in Las Vegas, I was running in fifth or sixth before I knocked the front end out. We've had some chances, but didn't capitalize on them. Overall, we need to put some full nights together. We have a fast car. You have to qualify well and get through your heat, but you also have to continue getting better in the dash and feature."
LS.com: You talked a little about Las Vegas. You were in the top-10 the first night before losing a front end during the feature, but you bounced back the second night with one of your patented charges from the back to the front where you had your best finish of the season to date. It had to feel good drive forward in a Feature event?:
Logan: "It always feels to good to pass cars no matter where you are at or where you are starting. That second night in Las Vegas we came from 22nd to eighth, and I was catching the cars in front of us at a pretty good rate and felt like I was much faster than they were. If we were better at the beginning of the night, we could have had a lot better finish. It just goes back to putting a whole night together. That's the key."
LS.com: Mother Nature has been a problem this year with six races being affected, four of them canceled and two rescheduled. How tough is it to get yourself and team in a rhythm when you constantly are having shows either canceled or postponed?
Logan: "It's definitely a lot of sitting around. I don't think we have sat around this long and not raced. Definitely have a lot of time to think about what you can do with the cars to make it fast, but not a whole of time to try it out and see if you know what you are doing. You just have to be patient. Everyone is in the same position. We did have a lot fun spending time with family over the Easter break. My aunt Robin and her husband Jeff took us around to see some sights and relax. My grandpa and I got to check out LA and that was a blast, but we definitely are ready to be racing as much as we can."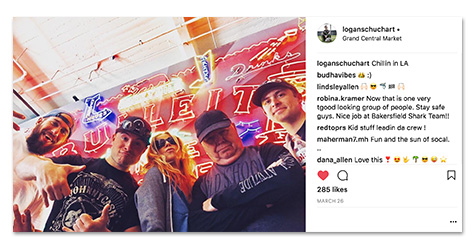 LS.com: The final two nights of action in California included your second fast time of the season in Stockton and your second top-10 finish at Bakersfield. Stockton had a frustrating end, but you were able to score a top-10 to close the California swing at Bakersfield. Talk about this year's early-season California run.
Logan: "Racing three nights instead of six or seven really wasn't what we had in mind. I feel like we were putting a complete night together at Stockton with our setups and the calls that we made with the car as the night went on. It was a really rough track and hard on the race cars. It was really testing the equipment. We had some parts on the front end that didn't hold up late in the race and it costs us. We were definitely a top-five car and those kind of nights are frustrating. We're hurting a little bit in the points deal right now, but as long as we keep progressing and start having those complete nights we'll be able to make up some ground. We've got speed and just need to have a complete night and get rolling."
LS.com: You have welcomed some new partners to your team and had the chance to spend some time with them early in the campaign. How important is it to surround yourself and team with quality people?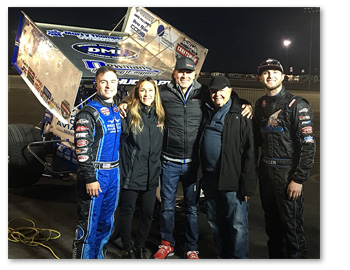 Logan: "It's super important to be surrounded by quality people. We've welcomed Ausherman Properties and Priority Aviation to our team this year and they joined a great group that have helped us out for long time like Mark Pell and Mike Palumbo. As well as a lot of great manufacturers that help us put a fast race car out there on the track. We're really proud of everyone that is part of Shark Racing and honored to represent them. People like Richard and Jennifer Marshall of Priority Aviation are tremendous ambassadors for dirt track racing. They help a lot of teams and drivers out giving a lot people the opportunity to chase a dream. Ausherman Properties is new to the sport and have helped us get our race team some solid help. We're really thankful for everyone that is involved."
LS.com: Speaking of quality people you started the season with a pair of new crew members Joe Mooney and Tyler Garber. How have they meshed with you, your grandpa and Jacob?
Logan: "Joe and Tyler have been great additions this year. They are very smart guys and pay attention to details. They worked hard over the winter to have us ready and they have taken a big load off Jacob and I's shoulders and my grandpa's too. I think they are going to be a big key to our success this year."
LS.com: It's been two weeks since you last raced, but tonight it's back to action for you as the Outlaws return to Arizona Speedway in Queen Creek, Arizona. What do you remember about the track?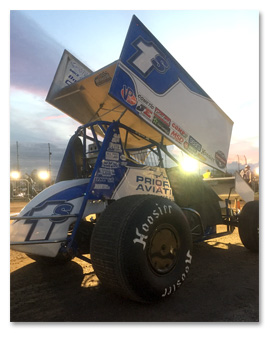 Logan: "Last year, they changed the track a little bit. I think it was completely different in 2016. I think they widen it out. So we've been there twice and it's been different both times. It was really tricky last year and I know talking to some other people they said it was a weird track too. It seemed to be wet and fast early and then almost immediately went to slick and then rubbered up. I haven't seen many tracks do that and I'm not sure if had something to do with it being in the desert, being sandy or what. Looking back at our notes, we have a good idea of why we were any as good as we wanted to be and I look forward to getting back there tonight and hope we can get the 1s rolling."
Next week, we'll have a recap of Saturday's race at Queen Creek and look ahead the Outlaws 2018 debut in the Midwest at Jacksonville (IIl.) Speedway and Tri-State Speedway in Haubstadt, Indiana.
https://loganschuchart.com/wp-content/uploads/2018/04/AZ_preview_2018.jpg
870
1200
logan
https://loganschuchart.com/wp-content/uploads/2017/11/logo.png
logan
2018-04-07 18:24:55
2018-04-07 23:36:37
FIRST QUARTER NOTES: Schuchart Seeking Consistency