CALIFORNIA, Missouri (April 12, 2018) – After spending the better part of three weeks without logging a lot of miles, Logan Schuchart spent the last five days charging on behind the wheel.
It started with his thrilling run from 16th to third in Saturday night's World of Outlaws (WoO) Craftsman Sprint Car Series 30-lap A-Feature at Arizona Speedway on the outskirts of Phoenix. The 25-year-old Shark Racing driver's talents were on full display in front of capacity crowd as he wheeled the No. 1s Priority Aviation/Ausherman Properties XXX machine to his first podium finish of the 2018 WoO campaign.
"I'm really proud of the way things ended up in Arizona," said Schuchart. "It's the result of having a hard working crew. Joe (Mooney) just kept trying things and the car just kept getting better. We rolled around pretty good in qualifying, but we were just on top of the track and spinning and couldn't carry any speed. The heat race we were better, but just didn't have enough laps to get farther than sixth. I actually wasn't sure how the feature was going to go for a while. I was back in like 17th trying to get by Greg Wilson, who was on the bottom, and Brent Marks, who was on the top. I think that restart on lap 17 was the key. I was able to hit the bottom and just started going forward from there. Getting the KSE Hard Charger was nice and finishing on the podium was a good ending, but we want to be winning races. You have to start closer to the front when you are racing with these guys if you want to win. Like I said last week, you have to put a complete night together. That's our goal for this weekend."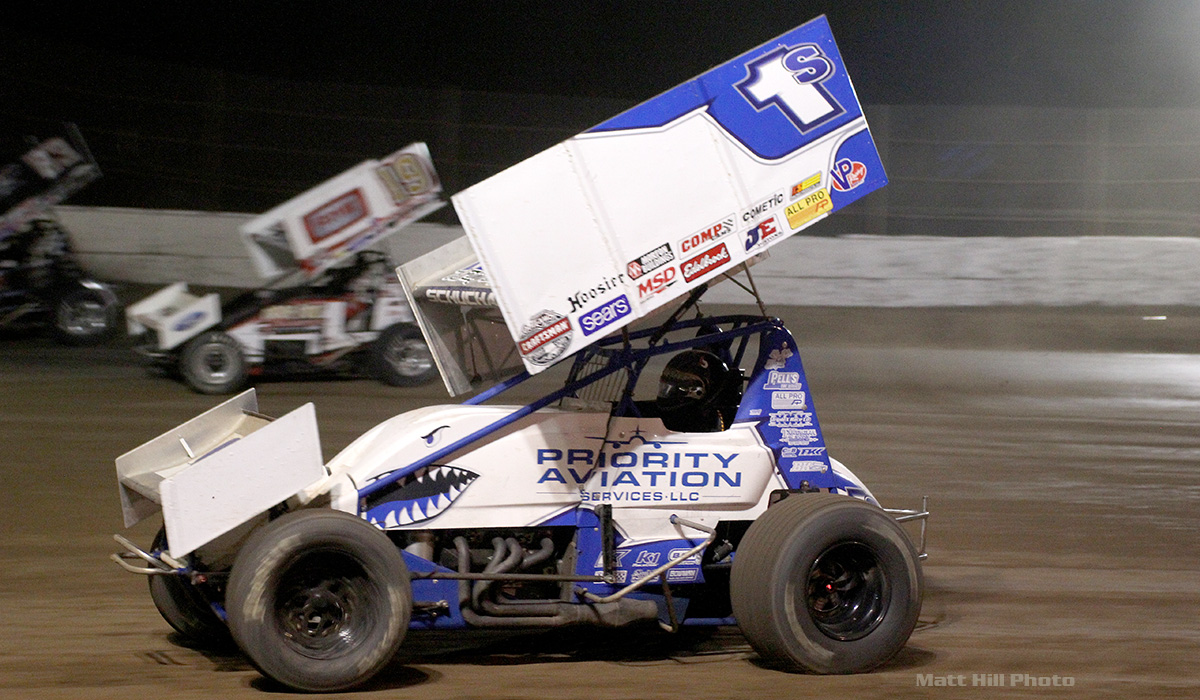 His charge forward Saturday night was just beginning of his time in the drivers seat. He spent the next two and half days making the 1,390-mile trek from Phoenix, Arizona to California, Missouri. Once they arrived at the Clyde Knipp Racing shop late Tuesday afternoon, Schuchart and his National Sprint Car Hall of Fame grandfather, Bobby Allen, stretched their legs for a few minutes and jumped back in Logan's motorhome and made the four-hour trip north to the Sprint Car Capital of the World, Knoxville, Iowa, for Wednesday's Bryan Clauson Tower Ribbon Cutting event at the National Sprint Car Hall of Fame.
"It's really remarkable what they accomplished in only 10 months," said Schuchart. "To be there and see the building and more importantly all the people that made it possible like Richard (Marshall) and Jennifer (Marshall), and Bob Baker with the Hall of Fame. It was awesome. Pretty moving to hear everyone talk about Bryan today. Especially Tim Clauson. Huge inspiration. I'm really lucky to be surrounded by people with this kind of passion for our sport. It was really a memorable experience."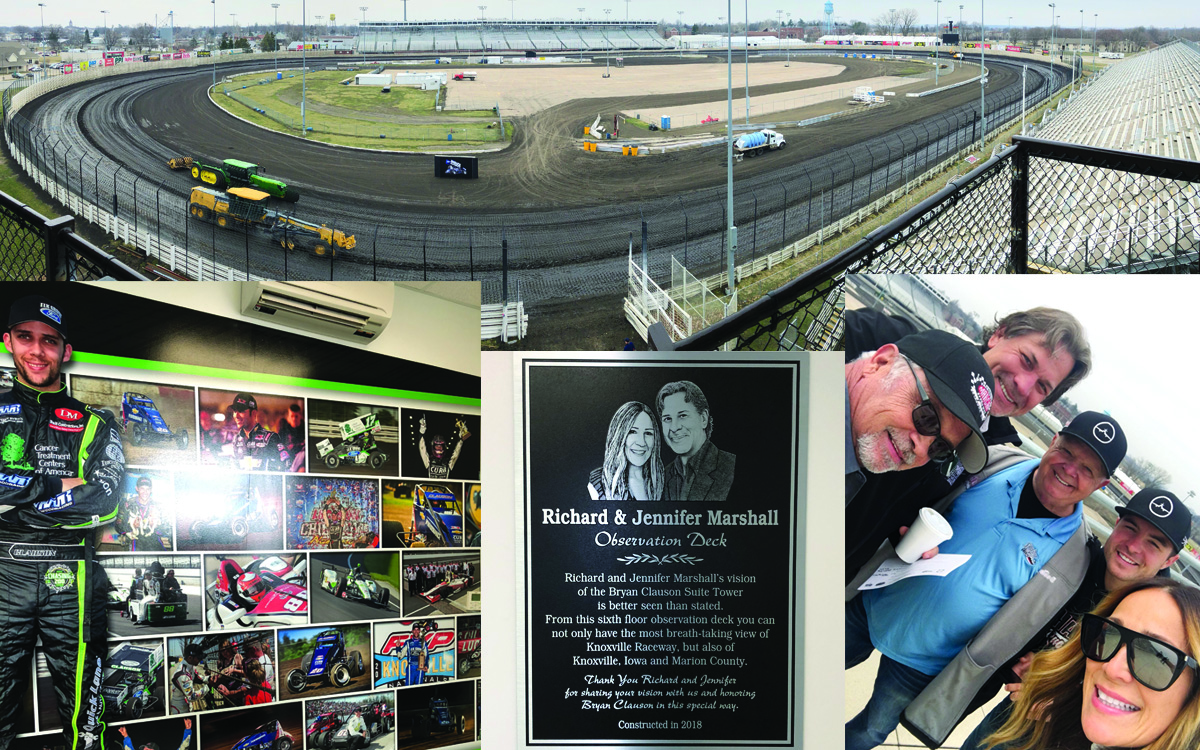 Schuchart and his "Pappy" traveled back to Missouri late Wednesday night and spent today preparing for a weekend doubleheader Friday and Saturday as the Outlaws make their 2018 Midwest debut Friday night at Jacksonville (Ill.) Speedway and Saturday evening at Tri-State Speedway in Haubstadt, Indiana.
Schuchart has made two previous appearances at Jacksonville, one of the smallest dirt ovals on the schedule. Not quite as small as say, Hunterstown Speedway where he cut his teeth racing go-karts and made some early laps in a Sprint car, but it's close.
"I like Jacksonville," admitted Schuchart, who finished 13th in 2014 and ninth in 2016 at the quarter-mile, high-banked dirt oval. "It's a little bullring and that's kind of a lot of what we are going to see in the next few weeks. I'm not quite sure why we went backwards in the feature two years ago (he started sixth). I remember feeling good in qualifying and seemed like we were pretty good all night. (He was the fastest qualifier and finished second in the opening heat). We gave ourselves a chance that night. Hopefully, we'll be able to put a complete night together Friday and be a position to stay up there."
Following Friday's stop in west central Illinois, it's back down the highway towards southwest Indiana for Saturday's annual visit at Tri-State. Schuchart has been consistent in each of his four treks to the high-banked, dirt oval. He's finished 22nd in all four starts. Something he'd like to improve on Saturday night.
"We have been consistent for sure (laughs), consistently bad," continued Schuchart. "It hasn't been one of my better tracks out here on the road, but we're looking forward to changing that this year. We have changed things around on the car every time we have been there and still haven't quite figured it out, but we aren't giving up on it. We're going to continue to working on it and keep fighting for it. Hopefully, we're going to also be able to change the stats for the better this year."
The learning curve has been steep at Tri-State during his first four years with the Outlaws and he's hoping maybe even some of his international experience in Australia at Archerfield Speedway in Brisbane last December may help change his fortune Saturday.
"I think Haubstadt and Archerfield are similar in size and shape," said Schuchart. "Haubstadt has a little more banking, but we are hoping we learned some things over there this year. Seeing how the fast guys make their cars go around Haubstadt. The big thing there is being able to get the cars to squat back and pick the front ends up and drive down the straightaway real hard, which is something we haven't been able to do there in the past. Instead, we just feel like we're riding around there. Hopefully we have that figured out and we're able to get some traction and pull some wheelies. If we can do that, moving forward may be in the cards for us."
Season Stats
After winning twice at Archerfield, Schuchart embarked on his fifth season with the Outlaws in February. He opened the campaign by setting fast time at Volusia. It was the first of two fast time awards he has scored this season.
WoO RACES: 9 Top-Fives: 1 Top-10s: 1 Quicktime: 2 Points/Position: 1104/9th
https://loganschuchart.com/wp-content/uploads/2018/04/LS_Jville_TriS_2_2018.jpg
700
1200
logan
https://loganschuchart.com/wp-content/uploads/2017/11/logo.png
logan
2018-04-12 20:36:09
2018-04-12 20:56:19
TRAVELING MAN: Schuchart Charges On